Is Dark Grey a Bad Color For a Bedroom? Dark gray: a "color-non-color"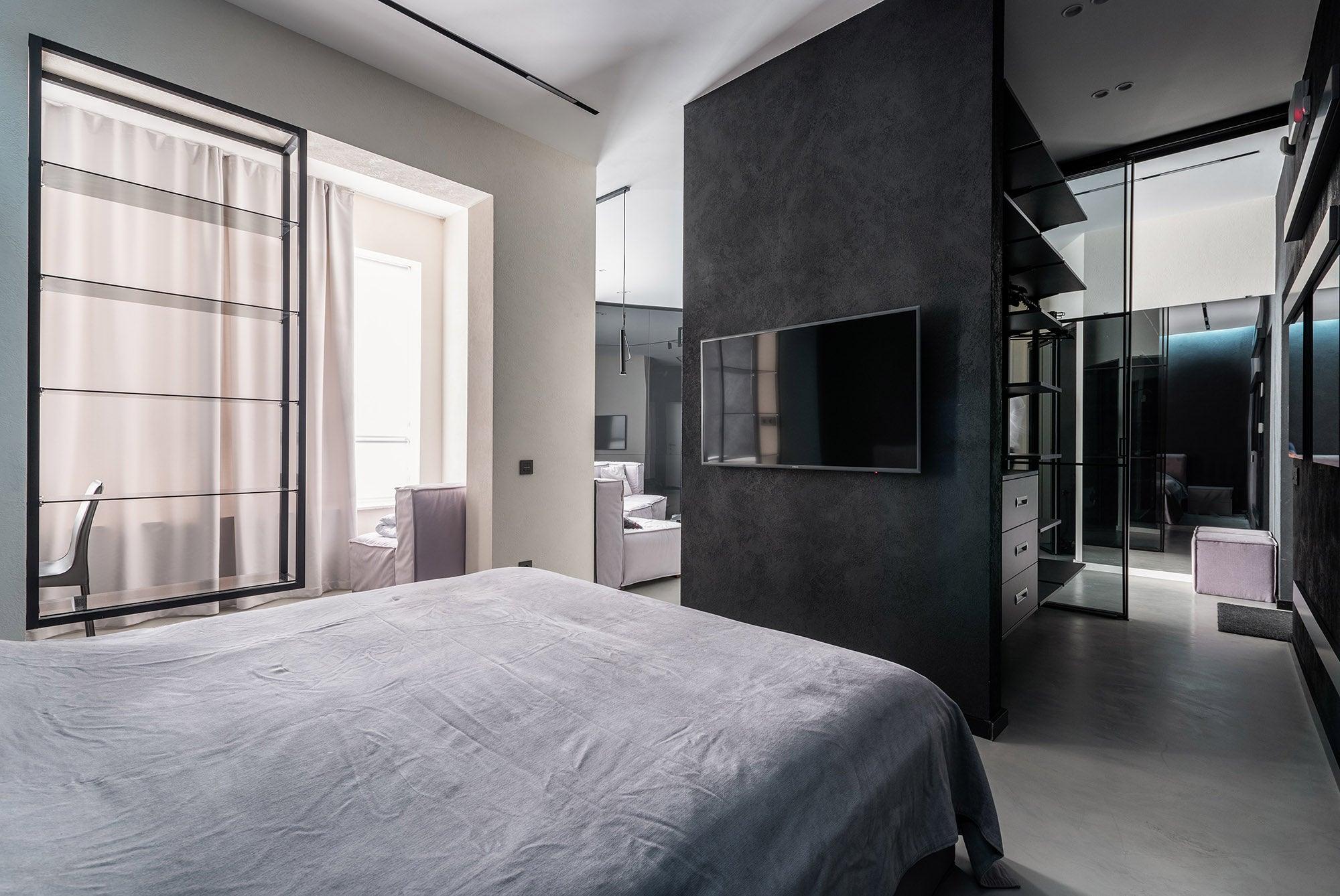 Gray is considered by many to be a monotonous and boring shade, by others an extremely elegant and refined shade. Choosing the gray color in the interior can be a gamble but if well dosed and combined with pastel shades an excellent result is guaranteed.
Gray is an achromatic color that is without tint, it is the sum of white and black but unlike these two it comes in many shades: from anthracite gray to smoky and iron-gray, passing through the light pearl, without forgetting the steel gray and ash - just to name a few.
Gray goes well with (almost) everything: it is a versatile, refined, sober color that does not tire with the passage of time, calibrated and never excessive, capable of furnishing all home environments with balance and undisputed elegance. If there is a color-non-color that you should consider if you are decorating your home, it is gray.
How do you decorate a large wall with art
Gray in the bedroom can affect everything: walls, floors, furnishings, accessories. If a completely gray bedroom or a bedroom in shades of gray does not convince you and it seems to you a monochromatic solution, gloomy and without personality, you could think of a room with gray walls with contrasting furniture and accessories or a bedroom. gray and white bed with black details, for example. The furnishing solutions are endless, green light for personal tastes and customization.
Gray walls in the bedroom
The advice is to play with shades of color, combinations and contrasts. Dark gray goes great with pastel colors such as pastel pink, baby blue, powder blue, cornflower, sage green.
Light gray lends itself to combinations with more decisive colors such as cerulean blue, royal blue, Persian blue, clover green, forest green. With the gray & white combination, you are on the safe side: white, cream white, pearl white, ivory are also perfect for making the environment brighter.
For an elegant bedroom, the gray & gold combination is one of the most popular. Brushstrokes of yellow are perfect for livening up the gray and giving a pinch of energy and warmth to the room.
The gray color can be used in many ways, for rooms that satisfy all tastes and respect every style. Not just a modern gray bedroom, but also a classic, contemporary bedroom in shabby chic and industrial style. The shades of gray are in fact among the cornerstones of the shabby and industrial style.
Adaptable to a small bedroom
In general, the advice is to prefer lighter and more relaxing shades. Colors that are too heavy and heavy risk transforming a space by making it smaller than it actually is.
Why use gray in the bedroom
Because you can choose from many shades and shades. The chromatic scale of gray goes from intense and dark hues to light and delicate nuances: there is something for all tastes!
Because it is a relaxing and restful color ... and every trick is valid when the furnishing of the bedroom and above all the "sleep well" is at stake.
Because it is a valid alternative to black and white. For those who are tired of monotony but do not have the courage to dare with colors. Because gray is a less obvious choice than white but at the same time it is delicate and bright, especially if chosen in light colors.
Because it is a great color to bring out other colors, without exaggerating. With the background gray, the other colors present in the room are more noticeable.
Check out our stunning canvas wall arts collection to find the right artwork for your space Shop our products online.
---